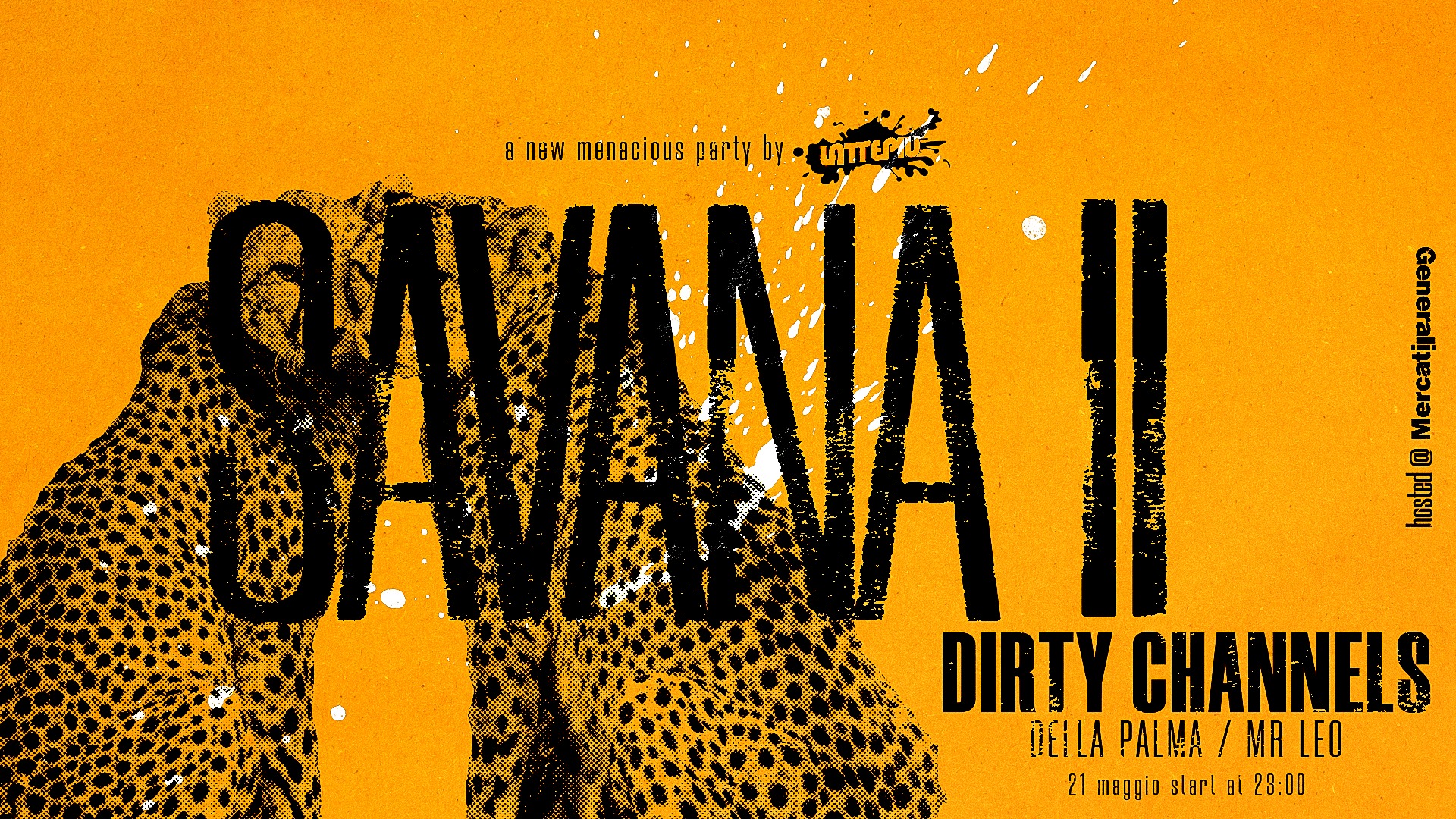 𝗟𝗔𝗧𝗧𝗘+ 𝗦𝗔𝗩𝗔𝗡𝗔 𝗜𝗜 𝘄/𝗗𝗜𝗥𝗧𝗬 𝗖𝗛𝗔𝗡𝗡𝗘𝗟𝗦

Sabato 21 Maggio 2022 h. 23.30
𝑺𝒂𝒗𝒂𝒏𝒂, un'immersione totale nella natura, libera e selvaggia.
Un luogo dove non sei solo nella natura, ma nei fai parte.
Dove i sensi si fanno acuti e le gerarchie si ribaltano.
Dove tutto è sorpresa, emozione.
Non più terra arida ma fertile, da vivere 𝒊𝒏𝒔𝒊𝒆𝒎𝒆.
Continua il ciclo di eventi 𝗟𝗮𝘁𝘁𝗲+ @Mercati Generali
𝗦𝗔𝗩𝗔𝗡𝗔 – 𝗮𝘁𝘁𝗼 𝗜𝗜
𝟮𝟭 𝗺𝗮𝗴𝗴𝗶𝗼 → 𝗠𝗲𝗿𝗰𝗮𝘁𝗶 𝗚𝗲𝗻𝗲𝗿𝗮𝗹𝗶
 𝗘𝗮𝗿𝗹𝘆 𝗕𝗶𝗿𝗱 𝗧𝗶𝗰𝗸𝗲𝘁𝘀 ⇉ 
https://link.dice.fm/x235ef49d44f
𝗟𝗜𝗡𝗘 𝗨𝗣
DellaPalma 
Dirty Channels
Mr Leo aka Leo Blandizzi from Ràriki
𝗗𝗶𝗿𝘁𝘆 𝗖𝗵𝗮𝗻𝗻𝗲𝗹𝘀
Simone e Leme, aka Dirty Channels sono due dj e produttori italiani che, da oltre 10 anni, portano l'house music in giro per il mondo.
Il suono dei Dirty Channels è un viaggio tra i groove dell'house old school e le atmosfere profonde della techno di Detroit, passando attraverso la disco-funk e le vibrazioni afro.
Il loro quartier generale è il Take It Easy party di Milano, punto di riferimento per la scena clubbing.
Un capitolo importante per la loro carriera è segnato dall'uscita di "Watchin Out" su Athens Of The North: un dancefloor killer di impronta disco-house che è stato nominato uno dei migliori dischi dell'anno dalla rivista Mixmag, ha avuto oltre 1 milione e mezzo di ascolti su Spotify ed ha ricevuto supporto da artisti come Gilles Peterson, Jeremy Underground, Kerri Chandler e molti altri con i quali hanno stretto anche delle collaborazioni.
Insieme a DJLMP e Bugsy, i Dirty Channels hanno recentemente lanciato la loro label "Take It Easy", ideata per diffondere il suono che più caratterizza il party milanese. Oltre alle produzioni, Simone e Leme hanno all'attivo molti remix per artisti come Mike Dunn, Terrence Parker, Roland Clark, Telepopmusik e Robert Owens.
 START 23:00
 Contrada Iungetto
95121 – Catania
Dove:
Mercati Generali S.S. 417 km 69, 95123 Catania