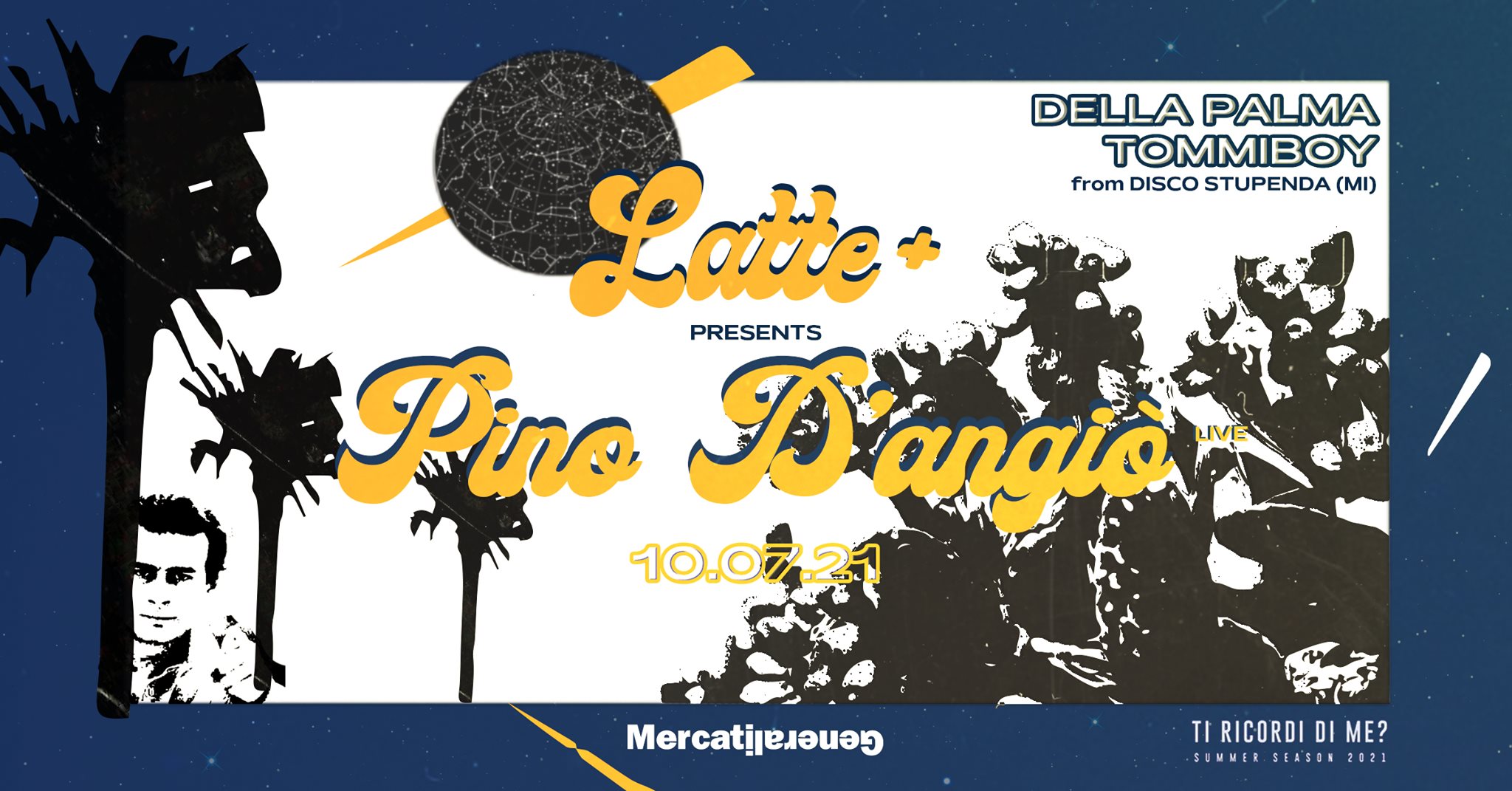 Latte + presents Pino D'Angiò

Sabato 10 Luglio 2021 h.22.00
"Ma quale idea? Una buona idea!"
Era l'estate del 1980 quando alla radio, nelle discoteche e nei jukebox in spiaggia impazzava questo refrain: "Sulla pista indiavolata, lì per lì l'ho strapazzata, l'ho lanciata riafferrata, senza fiato l'ho lasciata! Tra le braccia m'è cascata, era cotta innamorata… Si dice così, oh yeah!" 
Cantava così Pino D'Angiò con la sua aria da playboy e forse un po' da gradasso, sigaretta in bocca e cravatta slacciata. E piaceva a tutti, in Italia, in Europa, ma non solo!
Unico artista italiano ad aggiudicarsi la presenza nel DVD 'World Tribute to the Funk' del 2003, una vera e propria enciclopedia universale della funky music mondiale, ha composto brani per artisti come Mina e prodotto la hit dance di enorme successo "The Age of Love" insieme a Bruno Sanchioni, definita poi dalla critica come espressione della musica "trance" 
Insomma… stiamo parlando di un Artista con la A maiuscola!
Ospitato in ogni studio radiotelevisivo del mondo, con oltre 12 milioni di copie vendute per il suo tormentone, oggi "Pino l'italiano", voce e personaggio indimenticabile, dopo essersi preso una lunga pausa, ritorna a esibirsi e lo fa sul nostro palco, quello dei Mercati Generali, sabato 10 luglio.
Ma la serata ha in serbo per noi molto altro ed è impossibile anche solo pensare di perdersela
———————————————————————————–
 𝙇𝙄𝙑𝙀 𝙋𝙄𝙉𝙊 𝘿'𝘼𝙉𝙂𝙄Ò @ 23:00
 LINE UP
-DellaPalma
-TommiBoy from DISCO STUPENDA (Mi)
———————————————————————————–
SOON AVAILABLE
EARLY TICKET ONLINE € 7 + dp –>
TICKET ONLINE € 10 + p
TICKET AL BOTTEGHINO € 10 (entro le 23:15, dopo € 15)
———————————————————————————–
"Ma quale idea? A good idea!"
It was the summer of 1980 when this refrain went crazy on the radio, in discos and jukeboxes on the beach: "Sulla pista indiavolata, lì per lì l'ho strapazzata, l'ho lanciata riafferrata, senza fiato l'ho lasciata! Tra le braccia m'è cascata, era cotta innamorata… Si dice così, oh yeah!" 
This is how Pino D'Angiò sang with his playboy air and perhaps a bit of a bully one, cigarette in his mouth and untied tie. And everyone liked him, in Italy, in Europe, but not only!
The only Italian artist to be featured on the 2003 DVD 'World Tribute to the Funk', a true universal encyclopedia of world funky music, he composed songs for artists such as Mina and produced the hugely successful dance hit "The Age of Love. "together with Bruno Sanchioni, later defined by critics as an expression of" trance "music 
Well … we are talking about an Artist with a capital A! 
Housed in the radio and television studio of the world, with over 12 million copies of each for his catchphrase, today "Pino l'italiano", unforgettable voice and character, after taking a long break he finds himself taking a long break and does it on our stage, that of the General Markets, on Saturday 10 July.
But the evening has much more in store for us and it is impossible even to think of missing it
————————————————– – ———————————-
 𝙇𝙄𝙑𝙀 𝙋𝙄𝙉𝙊 𝘿'𝘼𝙉𝙂𝙄Ò @ 23:00
 LINE UP
-Della Palma
-TommiBoy from DISCO STUPENDA (Mi)
————————————————– – ———————————-
SOON AVAILABLE
EARLY TICKET ONLINE € 7 + dp –>
ONLINE TICKET € 10 + p
TICKET IN LOCO € 10 (before 11.15pm, after € 15)
Dove:
Mercati Generali S.S. 417 km 69, 95123 Catania