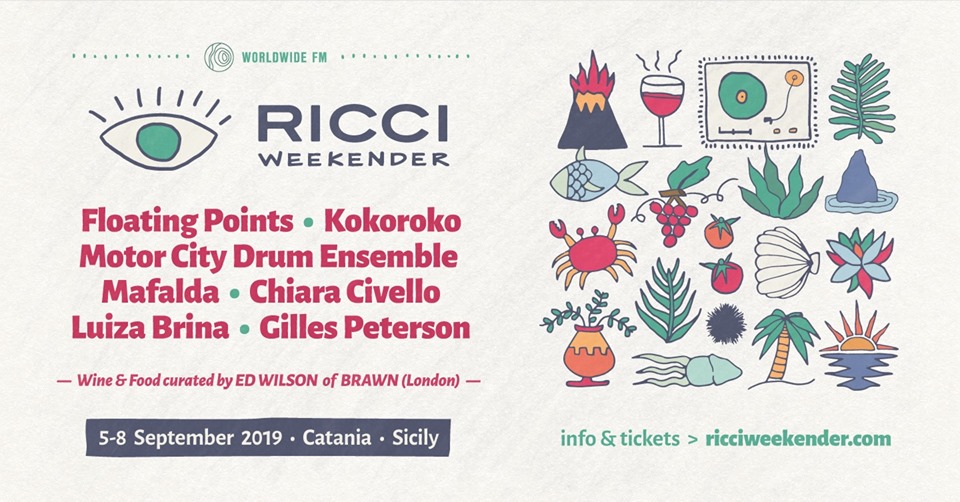 RICCI Weekender

5_8 Sept 2019
RICCI Weekender
5-8 September 2019 • Catania (Sicily)
Touring Festival / Festival Itinerante
This year Ricci will be bringing you music from: KOKOROKO, Floating Points, Motor City Drum Ensemble, Mafalda, Gilles Peterson, Chiara Civello, Luiza Brina and many more
––––––––––– English –––––––––––
Introducing Ricci, the Sicilian weekender curated by Gilles Peterson. Taking place 5-8th September, Ricci Weekender will bring you the best in music, wine and food. Situated on the east coast of Catania (Sicily) you'll be welcomed with Plaja beach, beaming sun and the glorious volcano Etna.
Paired with the incredible backdrop and music, Ricci will also bring you food curated by Ed Wilson, owner of Brawn Restaurant (London). Ricci will also be hosting the weekender across Worldwide FM (www.worldwidefm.net)
This year Ricci will travel through four superb locations: the opening concert will be held on Thursday 5 September in Palazzo Platamone in Catania. Friday, starting from the afternoon, we will transfer on Mt. Etna at Castiglione di Sicilia with its vines and exceptional architecture of the Cantine Pietradolce Vigneti in Solicchiata, Etna wineries. Saturday night the appointment is at Mercati Generali and its international clubbing scene. Grand finale on Sunday at sunset in the botanical park of Radicepura Garden Festival in Giarre.
During the Ricci events it will be possible to taste some of the most remarkable Sicilian wines together with the street food dishes by chef Ed Wilson at Cantine Pietradolce , Can Cisa – Bar Brutal at Mercati Generali and Belles Hot Chicken at Radicepura
To enjoy all the Ricci's events you can book a minibus with driver: send a mail to transfer@ricciweekender.com
Ricci Weekender is a co-production of Worldwide FM, Ed Wilson (Brawn), Mercati Generali, Associazione Musicale Etnea and Radicepura Garden Festival
––––––––––– Italian –––––––––––
Dal 5 all'8 Settembre 2019 Catania ospita la seconda edizione di Ricci Weekender, il mini-festival itinerante curato per la parte musicale da Gilles Peterson e con la partecipazione del cuoco Ed Wilson di Brawn Restaurant (Londra).Per questa edizione
Quest'anno Ricci viaggerà tra quattro location meravigliose, il concerto d'inaugurazione si terrà giovedi 5 Settembre a Catania al Palazzo Platamone, venerdì sera seconda tappa, per un party a numero chiuso sull'Etna, a Solicchiata tra le vigne e le straordinarie architetture della Cantina Pietradolce Vigneti in Solicchiata, Etna. Sabato sera appuntamento con musica live e clubbing a Mercati Generali. Gran finale domenica 8 settembre nei magici giardini di Radicepura Garden Festival a Giarre.
Durante gli eventi Ricci sarà possibile conoscere e degustare vini di alcune delle più interessanti cantine siciliane selezionate dallo chef Ed Wilson, proposti in abbinamento con uno suo speciale menù street-food.
Ricci Weekender è coprodotto da Worldwide FM, Ed Wilson (Brawn) Mercatii Generali Associazione Musicale Etnea e Radicepura Garden Festival
—————————————————-
PROGRAM & TICKETS
✦✦✦ 4-DAY PASS ✦✦✦
ABBONAMENTO 4 GIORNI
Early Bird Full Pass (Second Release) € 58
http://tiny.cc/mvyb5y
▶ Thursday 05 September – h21
Palazzo Platamone (Catania)
▷ KOKOROKO Live
▷A Kind of Stanza
▷Massimo Napoli
▷Andrea Montalto
Natural Wines Tasting Night
Early Bird Single Ticket €15
http://tiny.cc/uuwa5y
▶ Friday 06 September – h18
Cantine Pietradolce (Solicchiata)
Food curated by Brawn (London)
▷ Mafalda
▷ Luiza Brina Live
▷ Shazam Ipanema
▷ Tommaso Tommyboy Ragazzo
Exclusive Party / Limited Access
Early Bird Single Ticket €18
http://tiny.cc/gi9b5y
▶ Saturday 07 September – h21
Mercati Generali (Catania)
Food curated by Can Cisa – Bar Brutal (Barcelona)
Dinner Reservation +39 334 91.97.095
▷ Chiara Civello
▷ Motor City Drum Ensemble
▷ Gilles Peterson
▷ My Friend Dario
▷ STEREOCOOL
▷COSMO – Center of sound movement operation feat. Riccardo Rizza
▷ Frenky Mangano
Early Bird Single Ticket €15
http://tiny.cc/siya5y
▶ Sunday 08 September – h18
Radicepura (Giarre)
Food curated by Belles Hot Chicken (Melbourne)
▷ Floating Points DJ Set
▷ Andrea Normanno
▷ Aitho Entertainment : BIG COMBO b2b Salvo Micieli
▷ SUGO NERO
Early Bird Single Ticket €15
http://tiny.cc/taza5y
—————————————————-
Keep up to date with Ricci and give us a follow:
Instagram: @ricciweekender
Website: www.ricciweekender.com
—————————————————-
TRANSFER SERVICE
To enjoy all the Ricci's events you can rent a minibus with driver. For info & booking, write to transfer@ricciweekender.com
Per partecipare a tutte gli appuntamenti del festival puoi noleggiare un minibus con driver. Per info e prenotazioni scrivi a transfer@ricciweekender.com
Rountrip (A/R) • Minibus & driver to Cantine Pietradolce €25*
Rountrip (A/R) • Minibus & driver to Mercati Generali €15*
Rountrip (A/R) • Minibus & driver to Radicepura €20*
(*) Price per person
—————————————————-
For further informations please contact:
info@mercatigenerali.org
Tel: +39 3349197095
Dove:
Mercati Generali S.S. 417 km 69, 95121 Catania and more