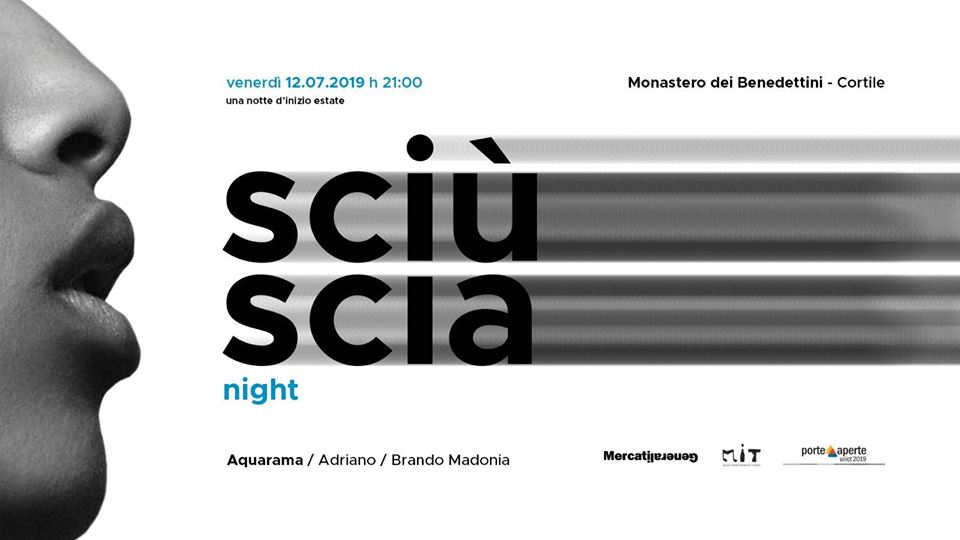 SCIÙ SCIA NIGHT__Aquarama/ Adriano/ Brando Madonia

Ven. 12 Luglio 2019
venerdi 12 luglio ore 21
Sciù
Scia
night
Aquarama / Adriano / Brando Madonia
In occasione di Porte Aperte UNICT
Mercati Generali + MIT
Aquarama is a combination of modern funk-rnb grooves with vintage-taste melodies and arrangements typical of 60s surf-pop: Aquarama is always keeping an eye on the world thanks to the innate international attitude of their music that led the duo achieve a prestigious collaboration with the New York disco reference dj In Flagranti and play beside french iconic band La Femme and canadian nu-jazz ambassadors BadBadNotGood.
https://www.youtube.com/watch?v=VeYqv_rhojs
https://www.youtube.com/watch?v=y78kUHU4C6E
http://aquaramamusic.com/
Adriano è il progetto elettropop del cantautore e illustratore catanese Adriano Di Mauro. Nato nel 2017 come progetto DIY di musica prevalentemente strumentale, nel 2018 la ricerca compositiva di Adriano si evolve con l'inserimento dei testi e del cantato all'interno dei suoi brani, nei quali mescola la canzone d'autore italiana, Battisti, la psichedelia, Carole King, il lo-fi pop francese. Canzoni a colori, testi scanzonati e intrisi di delicatezza, che narrano di amori di coppia, di desiderio quotidiano, di sogni giovanili. Nello stesso anno Adriano comincia ad esibirsi dal vivo per numerosi concerti nel Sud Italia e si aggiudica il primo posto al contest "Opp! Stage", suonando sul palco dell'Opp! Festival, organizzato dal Farm Cultural Park di Favara e dagli studi Indigo di Palermo. La live band che lo accompagna è composta da Giulio Fodale (synth), Alessandro Moncada (synth,voce) e Serena Miceli (basso). Musicista attivo già da diversi anni, Adriano ha militato ed è tuttora parte di diversi progetti della scena catanese, tra cui The Supersonic Heroes e A Lemon.
Brando Madonia nasce a Catania nel 1990. Fin da piccolo cresce in mezzo alla musica. Da adolescente suona in una band tra cover e brani inediti in inglese. Poco dopo ci sarà l'evoluzione passando interamente all'italiano. Nascono i Bidiel, band con la quale farà una lunga e colorata avventura, registrando due album. Adesso lavora ad un progetto solista.
Sentendo le bozze, uscirà fuori un gran lavoro, ne siamo certi.
12 Luglio h.21.00
Monastero dei Benedettini Catania
Ticket € 10,00 / ridotto studenti € 7,00 (circuito boxoffice)
Dove:
Monastero dei Benedettini di San Nicolò l'Arena – Catania Piazza Dante Alighieri, 32, 95124 Catania CT, 95124 Catania