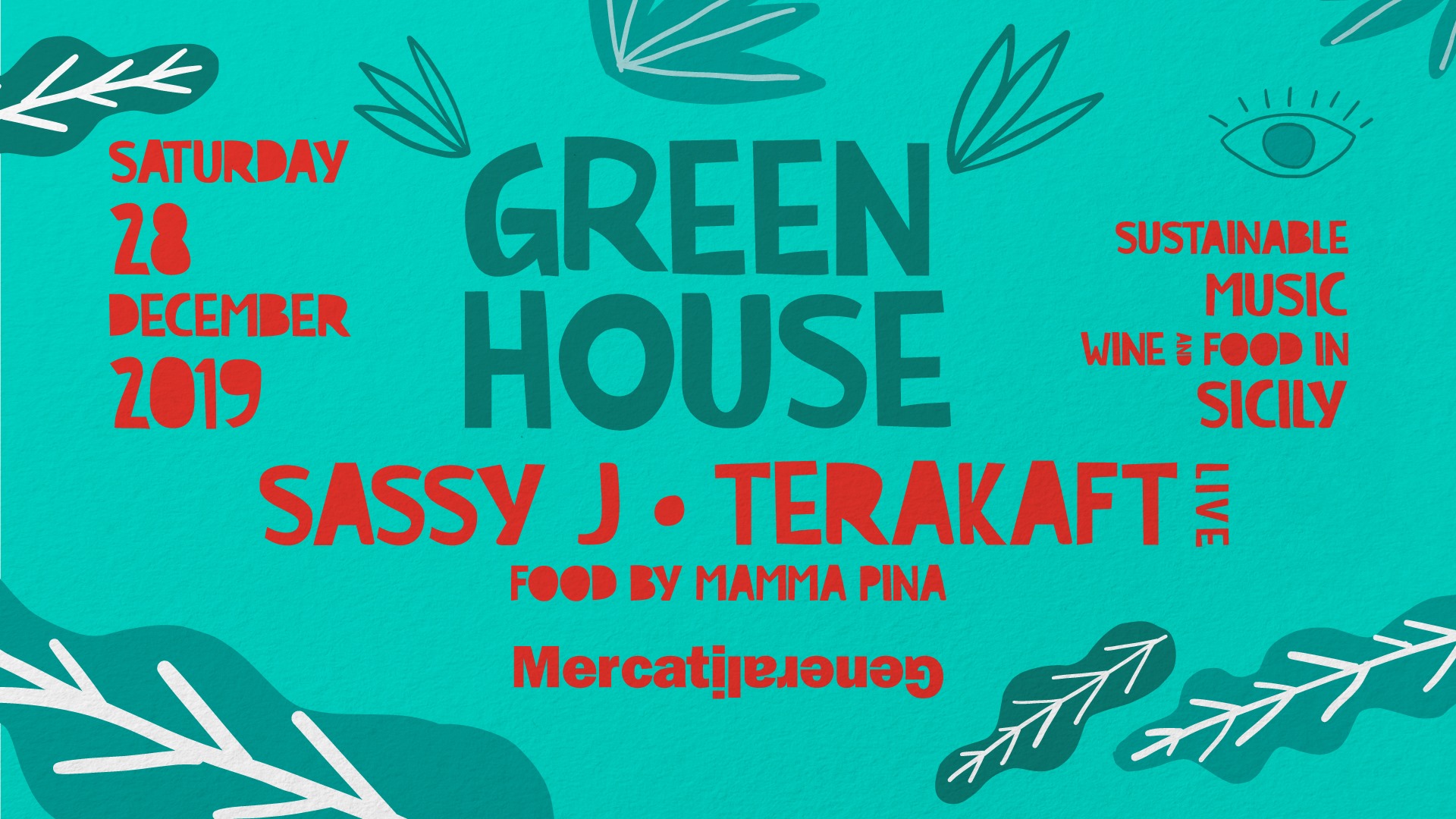 GREEN HOUSE at MercatiGenerali

Sab. 28 Dicembre 2019
SAT 28 DECEMBER 2019 , stars h 21 – 05
GREEN HOUSE
Sustainable Music , Wine and Food in Sicily
LINE UP [ TBCompleted ]
Sassy J dj set ( Rush Hour )
TERAKAFT live
Food by MAMMA PINA
https://www.facebook.com/mammapinacatania
TICKETS
EARLY BIRD euro 10 ( Before 26 December )
on line : https://bit.ly/2Rz9RiI
————————————————————————————–
Sabato 28 Dicembre a partire dalle ore 21 grande appuntamento ai Mercati per festeggiare la fine del 2019 con la musica , la cucina di Mamma Pina e le selezioni dei migliori vini naturali siciliani. Musica live con la band tuareg dei TERAKAFT ( Mali 🇲🇱) , dj set con vari ospiti tra cui Sassy J, leggendaria dj in questi giorni ha pubblicato la raccolta 'Patchworks' per la prestigiosa etichetta di Amsterdam Rush Hour. Plastic free and sustainable party 🙂 !
————————————————————————————.
Sassy J dj set ( Rush Hour )
www.sassyj.net
Sassy J has been passionately doing her do for 20 years now. In that time she has kept a focus on forward thinking electronic and analog sounds, has been a consistently exciting DJ and has earned a reputation amongst esteemed artists and fans that appreciate her unhurried style. Driven by a feel for the occasion, a passion to present new sounds and desire to leave a mark on her audience, Sassy J has played everywhere from Eglo Dance and Dekmantel to OHM and De School.
Release New Album 'Patchwork ' !!
Sassy J will has just release a new compilation album on Rush Hour ' Patchwork' is a nod to the Swiss selector's club night of the same name, which she has run for the last 14 years in her native Bern as well as London. It's made up of 13 tracks (ten of them exclusive) spanning spiritual jazz, deep house, techno and soul from artists such as 2000Black, Larry Heard's Mr Fingers alias, Aardvarck, Hanna, Georgia Anne Muldrow and more. A Sassy J collaboration with Alex Attias, '
TERAKAFT (official FB page) live
Azawad in north Mali is the area that produced the desert swept blues of the band Tinariwen and the late Ali Farka Toure.
The Tuareg band Terakaft.,the name means caravan in Tamasheq. The leader, Diara, was a founding member of Tinariwen. He left to join Terakaft. And today the group is a full-on family affair, fronted by Diara and two of his nephews, Sanou and Abdallah Ag Ahmed.
Dove:
Mercati Generali S.S. 417 km 69, 95123 Catania